Danish Style Shawl
Danish Style Shawl
This post is written by Teri Berry, just a little confusion on the publishing so it shows up under my  name. Ruth
Every few months (before Coronavirus blighted our lives) I used to meet with a couple of friends for felting play dates, where we share what we have been working on, discuss ideas for future projects and teach each other new skills. Last month we had our first felting play date for more than 6 months. It was just so lovely to chat woolly gossip while working on our own projects, Janine all but had to throw Nancy and me out of her gorgeous studio at the end of the day!
During our show and tell Janine shared a gorgeous wrap-around shawl she had knitted, it was based on a traditional Danish design that is tied behind your back so you do not need a hand or shawl pin to hold it in place, ingenious!
I took one look at Janine's shawl and knew I wanted to make a nuno-felt version.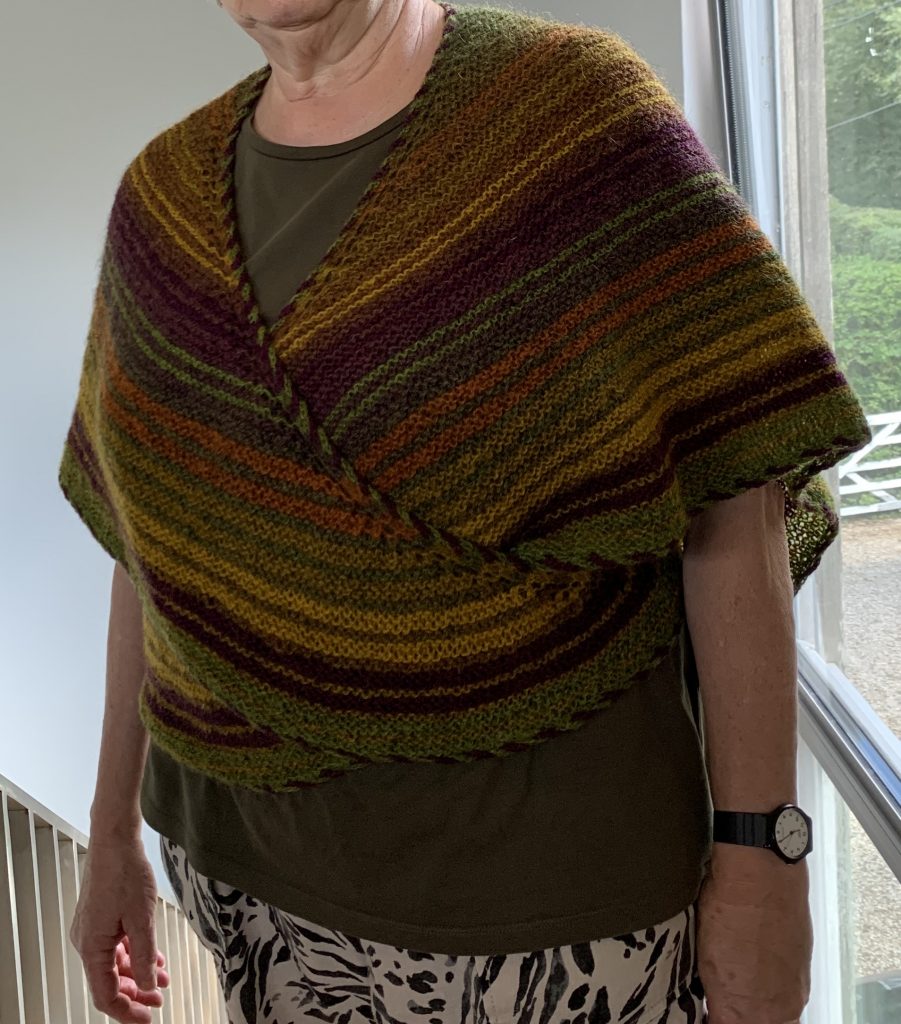 As the pattern of this shawl is symmetrical, it was an ideal candidate for laying out over a resist. Unfortunately I did not have the foresight to measure Janine's shawl but manage to fudge my calculations based on my own body measurements and created a resist allowing for 50% shrinkage.
I laid out a very pretty piece of blue and pink silk chiffon over both sides of the resist, wetting it so the fabric adhered to the resist and then trimmed the silk to the size of the resist.
Then I laid out 2 layers of merino on each side of the resist, adding a felt rope to each side of the pointed tip before rubbing and rolling until the wool was starting to shrink.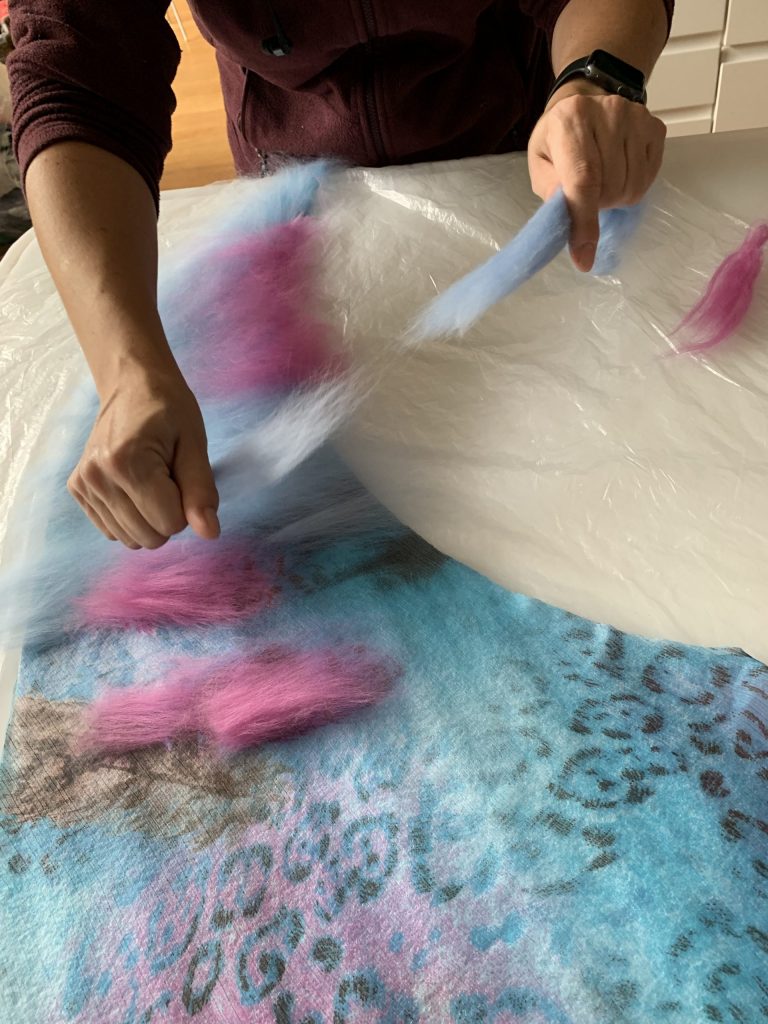 To remove the resist I cut along all of the curved edges, leaving only the straight edge intact.
Some more fulling and trimming later, this is the result: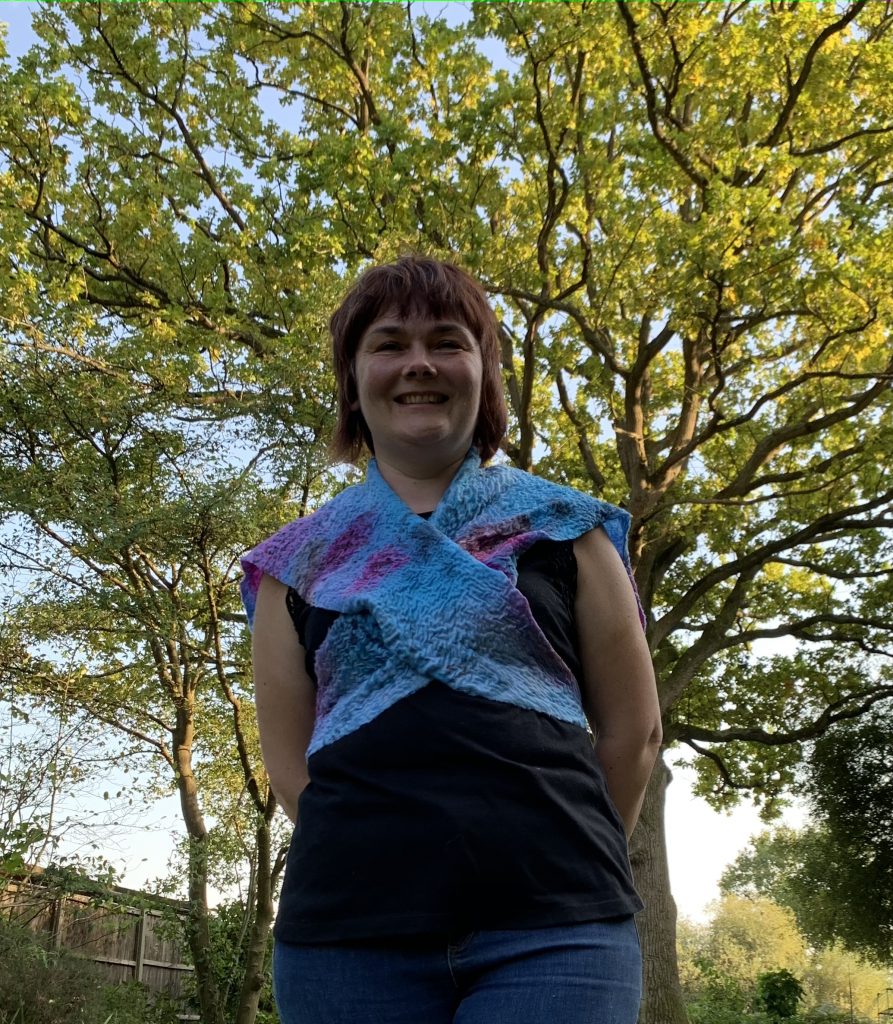 It is far from perfect, I have a long list of changes to make for the next iteration but this design definitely has possibilities…. coming to an Etsy shop near you before Christmas! (sorry, I know I should not mention the C word this early in the year! 😉 ).
Speaking of shops, another piece of good news is that the Craft Coop in Camberley are hosting a mini exhibition of my work this week (on now until Sunday 20th September), if you are in the area please do pop in, we are in the Square Shopping Centre.
Online Classes
A friendly reminder that registration for the Concertina Hat and Felted Bags classes is now open. This will be your last chance to take these classes this year, please email me ASAP at teri@teriberry.com if you would like to participate.
More information on these classes can be found here:
Happy Felting!