Fun with Foils
Fun with Foils
Like many of you, I belong to some textile groups that would normally meet in person but this year have needed to find alternative ways to work together. One such group is the Farnborough Embroiderer's Guild (EG). This EG group is quite unusual in that rather than inviting speakers to talk about their practice, we all take it in turns to teach each other new skills. Three months ago we started meeting via Zoom and I have to confess in some ways I actually prefer it! We aren't a large group but when we meet in person I often end up only talking to the 2-3 people I am sat nearest to, on Zoom the whole group shares the same conversation which is nice and feels very inclusive. The other advantage is the lack of commute, for me, this means I get to eat before we gather and I can have a glass of wine while we play together 🙂
Last month Sue took us through a technique to create foiled pictures; I don't know about you but I can't resist a bit of bling! As we are approaching holiday season it also feels very appropriate to share this with you now, I think it would make some wonderful textile Christmas cards and gifts. I hope you enjoy it and feel inspired to have a go!
Although I have played with foils before it was only as decorative finishing touches never as the basis to create a whole textile picture. Even so, I still managed to make every mistake in the book but was pleased to find foils are remarkably accommodating, if you make a mistake, it can (mostly) be rectified with layering more foil over the top.
Unfortunately it did not occur to me to take photos of the process until I was half way through my picture, I apologise for the lack of photos covering the initial stages of the process. The first few photos are where I went back and reapplied the bondaweb on the beak as my initial application had not transferred completely.
This was the reference photo I used for inspiration:
Some useful tips before you start:
set your iron on a low to medium (1 to 2 dots) setting without steam
always use a sheet of baking parchment to protect your iron
work on an ironing board
1: Cut a piece of medium weight, iron-fusible interfacing / fabric stabiliser slightly smaller than the background fabric and iron it to the back of your fabric. We used black cotton velvet but most non-synthetic fabrics will work (synthetic fabrics are best avoided for this technique as they might melt when heat is applied).
2: Draw out your design with a pencil on the paper side of a sheet of bondaweb. If you aren't confident drawing freehand, you can trace the design from a printed image. Cut out your design, either as one solid shape or in sections if you plan to create a stained glass effect. For the hummingbird I cut out the whole bird as a single piece.
3: Transfer the bondaweb design onto your backing fabric.
If you are using the stained glass technique you might want to transfer one piece at a time, foil it then apply the next bondaweb shape.
4: Once cooled, carefully peel off the paper backing from the bondaweb.
5: Lay a piece of foil (coloured side facing you) over the exposed bondaweb and cover this with a piece of baking parchment, using the tip or edge of your iron, apply gentle pressure to the areas where you would like that coloured foil to appear.
Allow the piece too cool before peeling back the foil backing.
Tip: you can cut out pieces of baking parchment paper to mask off areas where you do not want that particular colour to appear.
If there are areas where the bondaweb has not transferred so well, or you have already applied several layers foils and want to lay a different colour over the top you can reapply the bondaweb but cutting a shape to match the area, I did this for the edge of breast where I wanted the purple to form a solid line: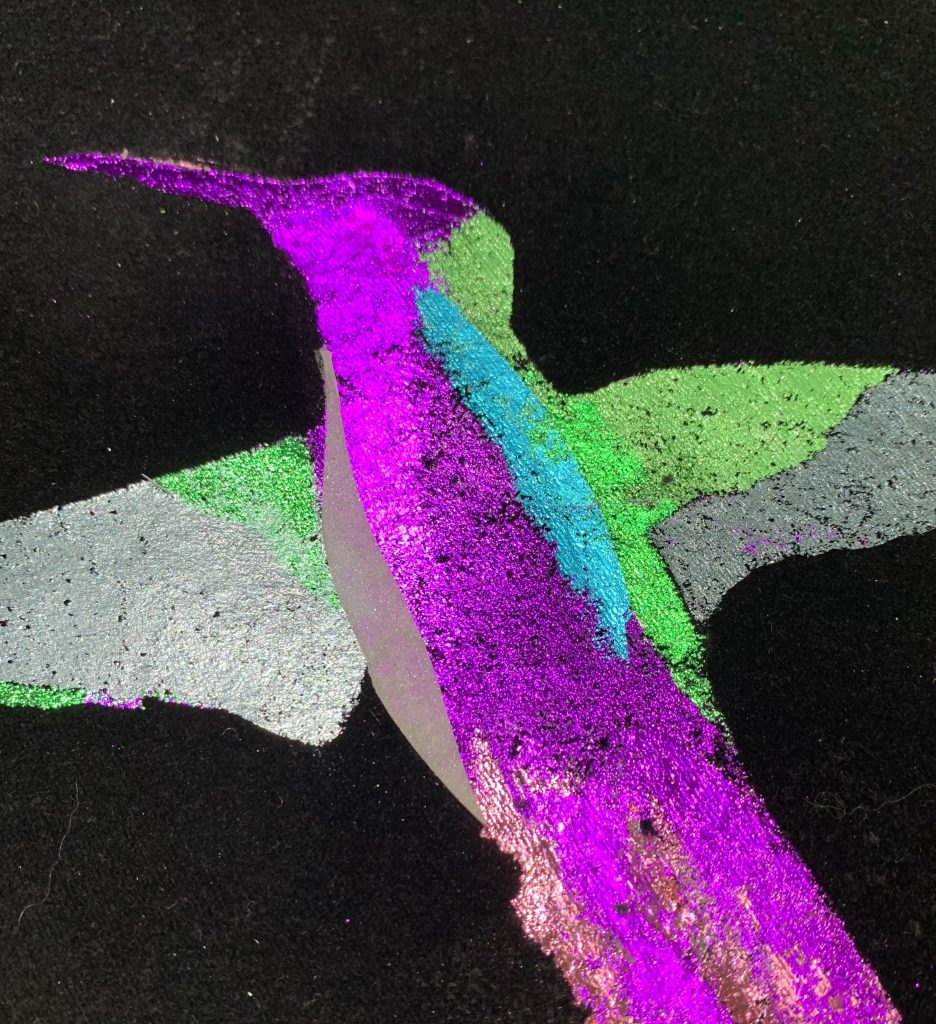 If you want a sharp edge in a specific shape, it is also possible to cut the foil to match the shape you desire:
6: Continue adding different coloured foils to your design. If using cotton velvet for the backing it is possible to build up layers of different coloured foils without applying more bondaweb.
Tip: keep the scraps of partially used foils, they can be used to overlay different colours on top of each other very pretty marbled colours.
It is possible to "draw" lines of foil using just the tip or edge of your iron, I used this technique to create the feathers on the wings:
It is not very easy to capture foils in a photo, especially the holographic ones so I shot a short video that I hope shows all the different colours more effectively:
Our group met again last night to add some embroidery to our designs, this is how far I managed to travel in the couple of hours we had together.
…and a little sneak peek of my most recent foiled "painting".
Have you tried making foiled paintings?